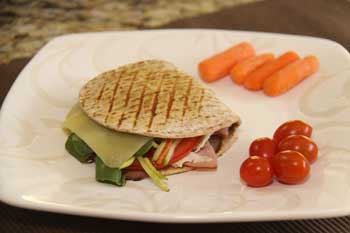 The PB Cuban
Ingredients
1

tbsp

creamy peanut butter

1

tbsp

yellow mustard

1

slice

whole grain flat bread

1

slice

thin sliced roast beef

1

slice

thin sliced ham

1

slice

thin sliced turkey

1

slice

reduced fat swiss cheese

2

slices

tomato

1/4

cup

broccoli slaw

1

tbsp

sesame dressing

baby spinach leaves

spray margarine
Instructions
Mix the peanut butter and mustard thoroughly. Spread completely over both halves of the one side of the flatbread. This will be the inside of the sandwich.

Place the meat on one half of the bread and the cheese on the other half.

Toss the broccoli slaw in the dressing and place on top of the meat. Layer the tomato slices and spinach on top of the slaw and then fold the cheese side over to top of the sandwich.

Spritz outside of the sandwich very lightly with the margarine and place on hot sandwich griddle to warm the sandwich. Flip the sandwich and then remove before fully melting the cheese.