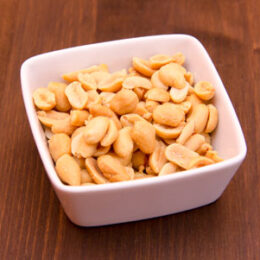 Roasted Peanuts
Instructions
Conventional Oven Roasting (Parching)
Place raw peanuts, in-shell or shelled, one layer deep in a shallow baking pan.

Roast in a 350 degrees F. oven - 15 to 20 minutes for shelled and 20 to 25 minutes for in-shell peanuts.

 Remove from heat just short of doneness desired as peanuts continue to cook as they cool.
Microwave Oven Roasting
Place 2 cups raw shelled peanuts in a 10x6 inch glass or similar microwave container. Dot with butter or margarine.

Microwave on high for two minutes. Stop. Stir peanuts. Continue to microwave two minutes at a time - followed by stirring until peanuts have been microwaved *10 minutes for light roast; 12 minutes for regular roast.

Remove from microwave. (Peanuts continue to cook as they cool.) Season to taste.
* Cooking times may vary according to the microwave. This recipe was tested in a microwave with 700 watts at full power.
Oil Roasting (French Frying)
2 cups raw shelled peanuts (red skin or blanched type peanuts)
1 1/2 cups peanut oil or enough to cover peanuts

Put peanuts into a colander or frying basket. Submerge in peanut oil preheated to 375 degrees F. and fry for approximately 4 minutes or to suitable roast intensity. Drain on paper towels. Sprinkle with salt. Serve warm.

For an unusal snack, add 1/4 teaspoon garlic powder or chili powder for each cup of peanuts. Mix thoroughly and serve warm.