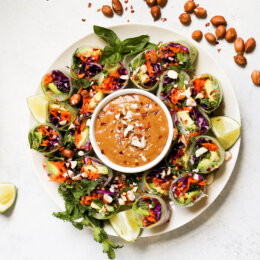 Fresh Veggie Spring Roll Bites with Peanut Dipping Sauce
Ingredients
Hot water

6

rice papers

3

mini cucumbers

peeled into ribbons

1/4

head red cabbage

finely shredded

1

large carrot

shredded

1/2

cup

basil leaves

loosely packed, plus additional for garnish, divided

1/3

cup

cilantro leaves

loosely packed, plus additional for garnish, divided

1/3

cup

mint leaves

loosely packed, plus additional for garnish, divided

1

large ripe avocado

peeled and sliced
Peanut Sauce
1/2

cup

creamy peanut butter

1

tablespoon

soy sauce

1

tablespoon

mirin

2

teaspoons

fish sauce

1

teaspoon

red pepper flakes

plus additional for garnish, divided

2

tablespoons

fresh lime juice

1/3

cup

Georgia Peanuts

plus additional for garnish, divided

lime wedges for garnish
Instructions
Fill large bowl about halfway with hot water. Soak each rice paper in water for 15 seconds until malleable. Place rice paper on clean work surface. Place four cucumber ribbons in single layer in the center of rice paper. These will be your guide for cutting the roll into bites. Perpendicular to cucumber, add strip of red cabbage, carrots, 1/2 cup basil leaves, 1/3 cup cilantro leaves, 1/3 cup mint leaves and avocado.

To roll, fold edges of rice paper over each end of filling. Working with side of rice paper closest to you, tuck rice paper around filling and roll tightly.

To cut, use sharp knife and gently move knife back and forth. Repeat with remained rice papers and filling ingredients.

To make sauce: In small bowl, whisk peanut butter, soy sauce, mirin, fish sauce, 1 teaspoon red pepper flakes and lime juice.

Toast 1/3 cup peanuts by placing in dry pan over medium heat. Move peanuts around often until fragrant and toasted, 3-5 minutes. Roughly chop and add to sauce.

Serve spring roll bites on large platter with sauce. Garnish with additional herbs, lime wedges, red pepper flakes and peanuts.