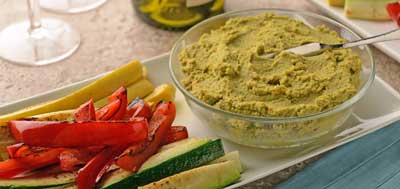 Edamame Hummus
Ingredients
2

cups

frozen edamame beans

1/3

cup

crunchy peanut butter

1/3

cup

lemon juice

2

tsp

Asian chili garlic paste

cooking oil spray

assorted vegetables, roasted
Instructions
Boil edamame in water until very soft. Drain off water, leaving ½ cup of water in the pan.

In the same pan add peanut butter, lemon juice, chili paste. Simmer. Remove from stove, allowing mixture to cool slightly.

Place in a food processor or blender and puree until well blended. The mixture will thicken as it cools. If it is too thick, stir in one tablespoon of water at a time. Serve with roasted vegetables.
Notes
Created by Loanne Chiu for the National Peanut Board's National Peanut Butter Lover's Recipe Contest.