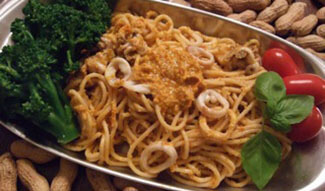 Peanut and Tomato Pesto
Ingredients
2 1/2

cups

cherry tomatoes

1/2

cup

roasted peanuts

16

large basil leaves

1/2

tsp

salt

1

clove garlic, peeled and crushed

1/2

cup

extra virgin olive oil
Instructions
Rinse the cherry tomatoes and basil and pat dry. Drop the tomatoes into a food processor bowl, followed by the basil, garlic, peanuts and ½ tsp. salt.

Process for about one minute to form a fine puree; scrape the bowl and proceed again. With the machine still running, pour in the olive oil in a slow stream to emulsify into a thick pesto.
Notes
For serving, use tomato pesto like traditional pesto in such dishes as spaghetti and seafood. For the dish, toss cooked pasta with half the pesto and then top with breadcrumbs, chopped toasted peanuts, chives, the remaining pesto and seafood such as poached or grilled shrimp or scallops. Garnish with chopped nuts before serving.