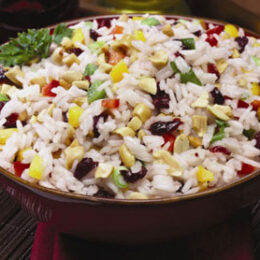 Cranberry Peanut Rice
Ingredients
1

cup

water

1

cup

cranberry juice

2

tsp

grated orange zest

1

tbsp

olive oil salt to taste

1

cup

jasmine rice

1/2

cup

chopped roasted peanuts

1/4

cup

chopped green bell peppers

1/4

cup

chopped yellow bell peppers

1/4

cup

chopped red bell peppers

3

green onions, chopped

1

tsp

salt

white pepper to taste

1

cup

dried cranberries, coarsely chopped
Instructions
In a 2-quart saucepan, bring the water, cranberry juice, orange zest, olive oil and salt to a boil. Stir in the rice. Cover the sauce pan and simmer the rice 25-30 minutes or until the rice is cooked and the liquid has totally evaporated.

Empty the rice into a large serving bowl and add the peanuts, peppers and onion.

Just before serving, season the rice with salt and pepper and add the dried cranberries, gently folding them in to prevent the rice from becoming sticky.