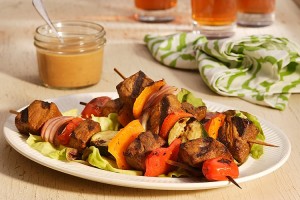 Beef Kabobs with Peanut Sauce
Ingredients
2

tsp

curry powder

2

tsp

dark sesame oil

1

tbsp

lime juice

1

tbsp

light brown sugar

1/2

tsp

chili powder

1

tbsp

soy sauce

1

lb

beef fillet, cut into 1 in. cubes

1/2

small onion, grated

1

cup

coconut milk

8

tbsp

crunchy peanut butter

8

skewers

assorted vegetables
Later
1/2

tsp

chili powder

2

tsp

light brown sugar

1/2

tbsp

soy sauce
Instructions
In a bowl, mix curry powder, sesame oil, lime juice, 1 tablespoon of the light brown sugar, 1/2 teaspoon chili powder, and 1 tablespoon soy sauce. Add in the beef cubes and toss to evenly coat beef.

Cover and leave in fridge to marinate at least 30 minutes, or as long as overnight. Soak skewers in water.

Heat broiler or grill to medium-high heat.

Before cooking beef, mix remaining chili powder, remaining soy sauce, 2 teaspoons brown sugar, onion, coconut milk and peanut butter in saucepan. Stir sauce frequently over medium heat until simmering. Cover and remove from heat, but keep warm.

Thread beef cubes on skewers. Add your favorite vegetables to skewers prior to cooking, if desired. Broil or grill kabobs. Set broiler pan so surface of beef is 3-4 inches from heat. Broil 7-9 minutes on high heat, turning once, for medium rare to rare. If grilling, heat grill to medium-high heat and grill about 7-10 minutes. Serve with warm peanut dipping sauce.