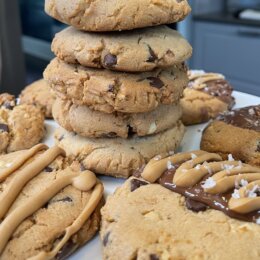 Gluten Free Monster Peanut Butter Cookies
Ingredients
2.5

cups

Gluten-free flour (1-to-1 Baking Flour)

1

teaspoons

Baking powder

1

teaspoons

Baking soda

1 1/2

teaspoons

Salt

1

cup

Unsalted butter, softened to room temperature

1

cup

Granulated sugar

3/4

cup

Light brown sugar

2

each

Large eggs, softened to room temperature

2

cups

Creamy peanut butter (store bought, not natural)

2

teaspoons

Pure vanilla extract

1 1/2

cups

Semi-sweet chocolate chips

1/2

cup

Peanuts, finely chopped

Dark chocolate for dipping

to garnish

Maldon sea salt

to garnish

Creamy peanut butter for drizzling

to garnish
Instructions
Preheat oven to 350 degrees F and line 2–3 baking sheets with parchment paper or silicone baking mats.

In a medium bowl, whisk the flour, baking powder, baking soda and salt. Set aside.

In a mixing bowl, cream the butter, sugar and brown sugar together on medium speed, until smooth, approximately 1–2 minutes (can use hand mixer or standing mixer). Add the eggs and beat on high until well combined, approximately 1 minute. Scrape down the sides into the bowl as needed. Add the peanut butter and vanilla and mix on high until well combined.

Add the dry ingredients to the wet ingredients and mix on low until well combined.

With the mixer on low speed, add the chocolate chips and peanuts and mix until well combined. Dough will be thick and soft.

Chill the dough for 30 minutes in the refrigerator, then let it sit at room temperature approximately 5–10 minutes

Roll cookie dough into large balls, approximately 2 tablespoons per cookie.

Place 8 balls on cookiesheet, spaced out, and gently press down to slightly flatten them

Bake each batch for 14–15 minutes or until lightly browned on the edges. The centers will look soft.

Remove from oven and let cool on baking sheets for approximately 5 minutes, then transfer to a wire rack to cool.

Optional: Dip half of each cookie in dark chocolate, sprinkle Malden sea salt on top and drizzle with warm peanut butter.
Video