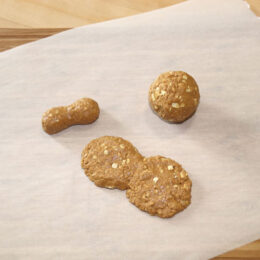 Edible Peanut Butter Playdough
Ingredients
1

cup

creamy peanut butter

3

tablespoons

honey

1

sleeve of saltine crackers

Cooking Spray
Instructions
Tear off a piece of parchment paper about 2 feet long (24 inches). Lay paper across the surface where you will be mixing/playing.

Spray the 1 cup measuring cup with cooking spray to prevent sticking of peanut butter. Measure out 1 cup of creamy peanut butter then spoon into the mixing bowl.

Spray the tablespoon measuring spoon with cooking spray to prevent sticking of honey. Measure out 3 tablespoons of honey and add to the peanut butter in the mixing bowl. Mix the honey and peanut butter well.

Place 5-6 saltine crackers in a Ziplock bag and seal. Finely crush crackers inside of the bag, being careful to not puncture the bag. You can use the can of cooking spray as a rolling pin on the outside of the sealed bag.

Pour the finely crushed crackers into the peanut butter & honey mixture. Mix well and repeat until you have finely crushed and added the entire sleeve of saltines to the mixture. (The finer that the crackers are crushed, the better the recipe will turn out.)

Spoon peanut butter, honey, and saltine mixture onto the parchment paper. Spray lightly with cooking spray. With clean hands, knead the mixture by hand until it has a dough like consistency.

You are ready to play – remember to wash hands well for this step because this recipe is completely edible.