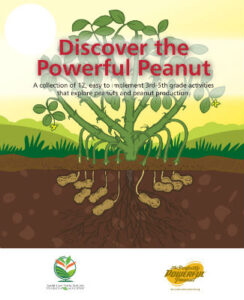 Discover the Powerful Peanut is a collection of 12 easy to implement 3rd to 5th grade activities that explore peanuts and peanut production. Our peanut farmer experts pooled their knowledge, creativity and resources to bring you twelve 15 to 45 minute peanut learning activities that are sure to engage your students in though-provoking and fun ways. Here's a look:
Math
POUNDS OF PEANUTS—30 minutes How many pounds of peanuts could you grow on your imaginary farm?
WONDERFUL WATER—30 minutes How much water does it take to grow peanuts?
GROWING AMERICA—30 minutes How many peanuts are produced in your state?
Science
ALL ABOUT ALLERGIES—30 minutes What is an allergic reaction? How can I help my friends with food allergies?
A NUTTY LIFE—30 minutes How do peanuts grow?
DELICIOUS AND NUTRITIOUS—15 minutes What are the nutritional benefits of peanuts?
Social Science
PEANUT BUTTER CAPER—15 minutes Who invented peanut butter?
WHERE IN THE WORLD?—30 minutes Where are peanuts grown around the world?
GEORGE WASHINGTON CARVER—45 minutes What positive impact did George Washington Carver have on America?
English Language Arts
PEANUT BUTTER POSITIVITY—45 minutes How can I create a service project to help feed the hungry with peanut butter?
PEANUT FAMILIES—30 minutes What's it like to grow up on a peanut farm?
PEANUT CLASSIFICATION—45 minutes What's the difference in a legume, a drupe and a tree nut?
Teacher Kits
Teacher's kits for grades K-2 and 3-5 are available from the Georgia Peanut Commission's Education Services Department at P.O. Box 967, Tifton, GA 31793. These kits are free of charge and contain information about the history of peanuts, nutrition information, ideas for teaching, recipes, activities and songs. To request a hard copy of the teacher kits please email, info@gapeanuts.com.