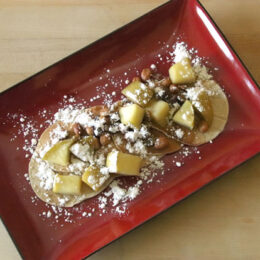 Peanut Apple PanCrepes
Ingredients
(For PanCrepes)
1/2

cup

waffle mix

1/2

cup

buttermilk pancake mix

1/2

cup

buttermilk

3/4

cup

whole milk

2

tbsp

creamy peanut butter

1/4

cup

apple juice
(For Topping)
1/4

cup

golden raisins

1/4

cup

honey roasted peanuts

1/2

cup

apple juice

1

Granny Smith apple

salt

cinnamon

powdered sugar (optional)
Instructions
Combine waffle mix and buttermilk pancake mix together in a mixing bowl. Add buttermilk and whole milk. Wire whisk into the mixture. Add peanut butter and continue to whisk. Finish with ¼ cup of apple juice whisked in. Set aside.

For the topping, add golden raisins, honey roasted peanuts and ½ cup of apple juice to a small saucepan. Add a dash of salt and sprinkle of cinnamon. Let soak for 10 minutes. Dice the large Granny Smith Apple and add to the saucepan. Bring to a boil. Reduce heat to simmer for five minutes and then turn the heat off. Cover saucepan and let it sit while preparing the griddle.

Set griddle temperature to 350 degrees Fahrenheit. Add non-stick cooking spray if needed. Pour PanCrepe mixture on griddle in pancake-sized amounts. Note: the PanCrepes will be thinner and will cook faster than a pancake. When bubbles have consumed the batter, flip the PanCrepe and cook on the other side. Once it has reached desired doneness, remove from the heat and plate. Add apple peanut raisin topping and sprinkle with powdered sugar for added sweetness.