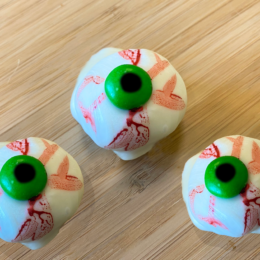 Franken-Nut Eyes
Ingredients
1/2

cup

smooth peanut butter

3

tbsp

butter

1 1/4

cup

powdered sugar

1

tsp

vanilla extract

12

ounces

white chocolate

1

bag

candy-coated chocolate pieces

1

red edible color marker
Instructions
In the bowl of a large mixer, blend peanut butter and butter until creamy.

Add the powdered sugar and vanilla to the peanut butter mixture and continue beating until it looks smooth.

Cover a cookie sheet with aluminum foil or waxed paper.

Using a spoon, scoop out balls of peanut butter and roll between your palms to get them as round as possible. Place on the cookie sheet and refrigerate until firm, about 30 to 45 minutes.

Place the white chocolate coating in a microwave-safe bowl and microwave until melted. Stir thoroughly until it's smooth.

Use dipping tools or a fork, dunk a peanut butter ball into the melted white chocolate. Let the excess coating drip back into the bowl. Place it back on the cookie sheet and proceed to dip the rest of the peanut butter balls.

While the chocolate is still wet, press an M&M candy in the center of the ball.

When the eyeballs are firm, use the red decorator frosting or the red edible color marker to make squiggly blood vessels from the bottom to the top of the eyeballs.